Historical horse racing machines look and function a lot like slots from the user's point of view, but they generate results using the outcomes of past horse races.
In short, the basic premise of historical horse racing is to give players a slots-like experience in states where full-fledged slots aren't legal. Instead, it's legal pari-mutuel horse racing betting with a slots-like patina.
How Historical Horse Racing Machines Work
There are many types of historical horse racing terminals, but in general, each round of play begins with the machine selecting one race at random from a database of up to a hundred thousand past races.
The terminal obscures names and dates but provides a handicapping form so players can select three horses, just as they would at a live race. However, many terminals offer a way for players to automate the selection process, so they end up with a machine that looks and feels just like a slot.
Only the last few seconds of the race are displayed on a small part of the screen. The rest of the monitor displays reels and symbols to show the player what, if anything, they won off the slot pull.
This video published by the Red Mile in Kentucky provides a hands-on explanation of how historical horse racing works in action:
The Story of "Instant Racing"
Historical horse racing or historical horse wagering is a generic term for instant racing. It involves an electronic gambling machine that allows players to bet on races that have already occurred (hence the term "historical").
The idea to use past races in betting was conceived in the 1990s by Eric Jackson, a General Manager desperately trying to save his failing Oaklawn Park race track in Arkansas.
The first deployment of the instant racing machines at Oaklawn Park in 2000 was a huge success. But it required steps from the state General Assembly to remove some legal restrictions related to simulcast racing.
Race tracks in other states soon followed suit, after gaining approval from state authorities. But in Oregon and Wyoming, HHR machines were met with opposition from the State Attorney Generals, who questioned their status as pari-mutuel betting systems.
In 2006, the Wyoming Supreme Court went as far as to call them "slot machine(s) that attempts to mimic traditional pari-mutuel wagering." It would take another decade, and explicit legalization efforts from the Wyoming legislature before HHR machines were allowed at race tracks and betting parlors in the state.
Other states like Nebraska, Texas, and Idaho have made unsuccessful attempts to legalize and introduce instant racing machines. These attempts were dashed either by the Governors, Attorneys General, or the courts questioning their legality.
Is Historical Horse Racing Gambling or Pari-Mutuel Betting?
The point of contention regarding the legality of HHR machines is the concept of pari-mutuel betting. Also known as Totelisator or tote betting, pari-mutuel wagering is legal in most states. In order to be considered a pari-mutuel betting system, bets on the same race must be pooled together.
In HHR machines, this is generally not the case. The machines in question show three different historical races to players, all incognito. The system accepts bets from multiple players into a common pool, which is what made it appear legal under Kentucky law. But the argument against them is that since players aren't betting on the same race, it does not technically count as pari-mutuel betting.
The evolution of instant racing machines also played a role in how anti-gambling activists and the courts perceive them. The machines' earlier designs leaned heavily into the racing aspect, showing info from the racing form to the jockeys and the horses.
But later iterations have abandoned that approach. Instead, going for a more "slots-heavy" system, with spinning reels taking over and the actual horse race video getting less on-screen space. Most machines even offer an auto-bet feature, taking out the player's need to pick a horse. They resemble slots and seem to exploit loopholes in state laws that prohibit slot gambling for all practical purposes. 
There is no doubt that these developments worked against the HHR machines in several states, and not without justification. After all, slot machines are illegal or heavily regulated in states where racetracks have introduced historical horse racing machines.
States with Historical Horse Racing Machines
Unsurprisingly, historical racing is a controversial form of gaming. Racetracks typically attempt to offer historical horse racing machines in states where commercial casinos are not legal.
Horse racing tracks have determined that historical horse racing terminals are one of the best ways to compete with commercial, tribal, and out-of-state casinos. State racing regulators often agree, though legislatures and attorneys general do not always support it or agree with its legality. 
Opponents call historical racing machines a way to get around state anti-gambling laws. Proponents insist that the games are not slots since their outcomes are based on past horse races.
Today, historical horse racing machines are available in six states:
Kansas
Kentucky
Louisiana
New Hampshire
Virginia
Wyoming
Kansas Historical Horse Racing
Kansas legalized historical horse racing machines in 2022 via legislation that also authorized sports betting. The historical horse racing portion of Kansas law cleared the way for the defunct Wichita Greyhound Park, which closed in 2007, to install up to 1,000 historical horse racing machines.
In response, Wichita Greyhound Park owner Phil Ruffin announced plans to renovate and reopen the track sometime in 2023 or 2024.
Kentucky Historical Horse Racing
Horse racing is the most well-known form of gambling in Kentucky. The only other forms of legalized gambling in Kentucky are related to the state lottery and charitable games like bingo and raffles. Casinos and sports betting are not legal in the state. 
In 2010, racetracks lobbied the Kentucky Horse Racing Commission to approve historical racing machines. Later that year, regulators changed the definition of pari-mutuel wagering. The board asked a state court to sign off on this change, and it did. As a result, racetracks and off-track betting parlors receive the go-ahead to install historical horse racing machines.
A decade-long fight ensued between anti-gambling interests and the horseracing industry. Eventually, the issue worked its way to the Kentucky Supreme Court, which ultimately found historical horse racing machines in violation of state laws that forbid the operation of slot machines.
However, the Kentucky Legislature codified instant racing in 2021 to permit the operation of the devices once again.
While the subject of historical racing worked its way through the courts, racetracks and off-track betting parlors wasted no time. Kentucky Downs launched the machines in 2011.
In 2012, historical racing opened at Ellis Park. Red Mile waited until 2015. Derby City Gaming, related to a simulcast facility, launched its first historical racing venue in 2018. A second opened in 2021. 
Turfway Park, just across the state line from Cincinnati, underwent a major renovation in 2021 to expand into the historical racing industry. The entire property was closed during this transition. 
Louisiana Historical Racing
Louisiana legalized historical horse racing with SB 209 in 2021, allowing racetracks not attached to casinos to offer historical horse racing machines.
Under state law, each property may host up to 50 historical horse racing machines. Parishes do not need to vote on historical racing if simulcast facilities are already legal. Parishes that have not yet approved off-track betting must hold a local referendum to approve historical racing businesses. 
There are 19 off-track betting parlors with historical racing machines in Louisiana. Most are Fair Grounds OTBs. Many also have video poker machines. 
La. Admin. Code tit. 35 § XVII-13115 states that machines must pick each race randomly from a library of past results that include the date of the race, location, and finishing order. Each race in the database has an equal opportunity to be picked. For example, the race that was just randomly chosen is just as likely to be picked as any other in the database for the next game. 
New Hampshire Historical Racing
After years of trying, New Hampshire became the sixth state to legalize historical racing. The machines are permitted at charitable casinos. Charities receive 35% of the gaming win from these devices and the other games offered at these venues, like blackjack and poker.
There are no live horse racing tracks in New Hampshire. The last live race in the state was held at Rockingham Park in 2009. However, off-track betting parlors and horse racing wagering apps are legal.
Virginia Historical Racing
Virginia legalized historical racing machines in 2018 as part of a plan to reopen Colonial Downs, the state's only horse racing track. The machines went live at Colonial Downs a year later.
There are also four off-track betting parlors under the Rosie's Gaming Emporium brand that offer these games. 
Wyoming Historical Racing
Like many other states, historical racing tried to find its way through the back door in Wyoming. It all started in 2003 when four simulcast betting facilities received approval from the Wyoming Pari-Mutuel Commission to install historical racing machines. 
The Wyoming Attorney General challenged the Commission's decision and prevailed in 2005 when a trial court declared the devices illegal slot machines in violation of state law.
Off-track betting facilities removed their historical horse racing machines in response to the ruling, and the Wyoming Supreme Court affirmed the decision in 2006.
However, that wasn't the end of historical horse racing in Wyoming. The state legislature legalized historical horse racing in 2013 under Wyo. Statutes § 11-25-102(a),(v)&(vii)(A),(B). The devices operate at more than a dozen simulcast betting venues in the state, often within taverns.
Failed Historical Racing Attempts in the United States
The racing industry and its regulators in multiple states have tried to lean on historical horse racing in the face of declining revenue and dwindling interest in live racing, but not all have succeeded.
The following states ran into hurdles in court or couldn't get the state legislature on board and ultimately failed to keep historical horse racing machines at racetracks and simulcast racing locations.
Idaho Historical Racing History
Idaho racetracks and off-track betting parlors had a brief run with historical racing machines, sometimes called instant racing.
At the time, historical racing was only available at Les Bois Park, Greyhound Park, and the Double Down Bar & Grill. However, their availability opened the door for additional live and simulcast values to offer the games in the future.
2013: Idaho Legislature Approves Instant Racing
In 2013, the Idaho racing industry convinced lawmakers to approve a bill legalizing historical racing at any venue with live or simulcast racing.
Within a year, many lawmakers had buyer's remorse. Several stated on record that they felt deceived about the definition of historical racing. According to some legislators, the thought process behind legalizing these machines was to allow mechanical horse racing machines like Sigma Derby and Fortune Cup that were more clearly related to past races.
When lawmakers saw what looked more like slot machines at Les Bois Park, Greyhound Park, and the Double Down Bar & Grill, they voiced their displeasure.
Lawmakers pointed out that tribal gaming interests had tried to buy Greyhound Park in the past in an attempt to offer slot machines. The governor refused to sign a gaming compact to authorize the purchase. A few years later, the state legislature banned the governor from allowing these forms of casinos. However, lawmakers noted that the same property the Coeur d'Alene Tribe tried to convert into a casino had essentially become one under racing interests.
In 2015, the state legislature repealed historical racing. Governor C.L. Otter vetoed the repeal, but the state supreme court determined the veto was invalid. As a result, three racing venues removed about 250 historical racing machines.
2018: Historical Racing Referendum Fails
Treasure Valley Racing, operators of the now-defunct Les Bois Park racing and simulcast facility, started a petition drive to get historical racing on the 2018 Idaho ballot. The Coeur d'Alene Tribe opposed the measure, but Treasure Valley succeeded in getting it put onto the November 2018 ballot as Proposition One.
However, Idaho voters defeated the proposition by a 54-46 margin. As a result, Les Bois Park ceased operations.
Greyhound Park is still active but no longer offers live racing. It is home to simulcast wagering and bingo games.
Illinois Historical Horse Racing
The Illinois Racing Board briefly attempted to legalize historical horse racing machines in 2018 to help struggling racetracks find new revenue sources amid increasing competition from other forms of gambling.
For example, the 2009 Video Gaming Act allowed licensed liquor retailers, truck stops and fraternal organization to host up to five video gaming terminals. After several years of delays, the first video gaming terminals in Illinois popped up in the second half of 2012. Since then, video gaming terminals have proliferated across the state. There are now more than 44,000 authorized video gaming terminals in Illinois.
Business was good for everyone but Illinois racetracks. The racetracks had fought for years to add slot machines to their premises to no avail. While other establishments benefitted from increased forms of legalized gambling, the state's horse racing tracks were left out in the cold. Finally, the Illinois Racing Board decided to take matters into its own hands.
However, the issue became moot after Illinois passed a sweeping gambling expansion law in 2019. The law authorized racetracks to offer sports betting in Illinois, slot machines, and table games, all of which granted the local racing industry a much-needed reprieve from declining revenue.
Nebraska Historical Racing 
The horseracing industry in Nebraska was behind several failed attempts to bring historical racing to the state. In 2012, the Nebraska Legislature passed a bill that would have legalized historical racing machines. However, Governor Dave Heineman vetoed it, citing constitutional concerns. 
In 2014, the Nebraska Legislature referred a constitutional amendment proposal to voters. However, the Nebraska Supreme Court threw out the proposal, removing it from the November 2014 ballot. 
The Nebraska Racing Commission approved instant racing in 2018, only to have the state attorney general advise that it was likely in violation of the state constitution's ban on slot machines. It was challenged in court before the racing commission backed down. This effectively ended the attempts to permit historical racing machines in Nebraska. 
In November 2020, voters approved a constitutional amendment allowing casino-style gambling at Nebraska racetracks and reservations. The amendment made historical racing machines obsolete in Nebraska and ended the debate.
Texas Historical Racing
The Texas Racing Commission approved historical racing machines at racetracks with off-track betting parlors in 2014 to save the local horse racing industry. Later that year, a judge struck down the regulations due to a conflict with the Texas Constitution, which does not permit this type of gambling. 
The Texas Racing Commission appealed the decision after the attorney general declined to represent the Commission. However, the Commission dropped the lawsuit in response to threats from state legislators to withhold state funding to the Commission.
The Texas horse racing industry claimed at the time that it needed instant racing to survive as it lost business to casinos in Louisiana, New Mexico, and Oklahoma. Texas horse racing is almost extinct today.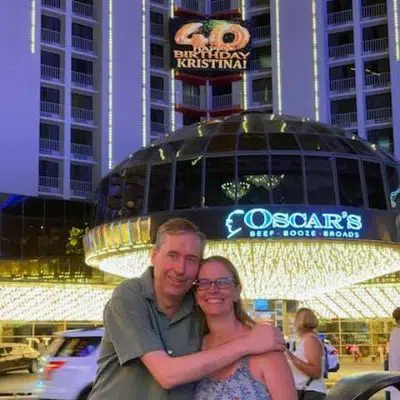 John is a gambling industry veteran and advantage gambler with experience as a reporter, legal analyst, and community moderator.  John lives in Las Vegas and runs VegasAdvantage.com